How to Write English Essays
Writing English Essays can be both fun and exhausting. It depends on how you, as the essay writer, take it.
Whether you like it or not, it is certain that at some point in your education, at University or otherwise, you will be expected to write essays that demonstrate your knowledge and understanding on some subject. This article will explain how to write an essay in an easy step-by-step manner.

What is an Essay?
An essay is a piece of writing in prose where the writer expresses their point of view. It is the personal opinion what is reflected in an essay. You can say that there's a fine shade of difference between what can be called an essay, and what can be called a report or short story or article, but this is often mistakenly overlooked. An essay asks you to critique something or to present your agreements/disagreements on some topic. It can be an argument, observation, or expression of personal views by the writer.

How to Write English Essays?
Although serving various purposes, essays have one basic structure. Following the structure every time you begin writing an essay will make it flow smoothly, almost like it is writing itself.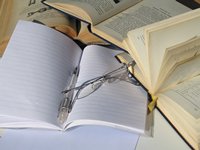 For any good English essay, there are a few simple steps to follow:

1. Pick a topic.
2. Frame a thesis statement.
3. Outline your essay.
4. Write the introduction.
5. Form the body.
6. Summarize.
7. Review/Re-read/add finishing touches.
Picking a topic may be your choice, or your instructor can assign one for you to write on. If a topic is assigned to you, you need to understand out whether a general analysis or a specific thesis is expected from you. Say, if you need to write a report on a subject like "Australia", being very broad and general is okay. But for a specific analysis, narrow down to "Australian culture" or "Australian wildlife".
If you need to pick the topic, you have everything under the sun to write about. First, know what your point in writing the piece is; do you want to educate readers, express an opinion or is it a "How-to" guide like this one? Then, choose a topic from the broad area of interests you have and go from there. Make sure your topic and purpose are in tune with each other.
Framing a thesis statement comes next. A thesis statement is telling the readers what this essay is all about. You need to tell them what you will be writing in the essay, and what they should be expecting next.

The Thesis Statement will be comprised of:
Your topic + Your Point/Idea/Argument

For Example -

Thesis statement:
"Australian wildlife + is exotic and rich."
You can now start building from here.

Click Here for the Next Steps In Writing an English Essay


---
Return To Good Structure Page From English Essays

Return to Home Page From Writing Essays