Free English Editing and Proofreading Archive
2010
This is the first Archive page for the free English editing and proofreading work done in the (approximately) first year of the service. I hope these pages can be informative and maybe even interesting to students of English as a Second Language and anyone else interested in improving their writing.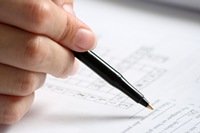 This as a free English editing and proofreading service and we are not interested in writing your essay, dissertation or story for you but, we would like to help you make your writing better. Since there is no charge, we are limited on the length of pieces of writing this page can accept. (The maximum size is 3,000 characters.) Texts that are too long will not be displayed.


For important and longer business, academic or personal documents that require the best quality, professional editing and proofreading, we strongly recommend Scribendi. Clicking on the blue text link or on the logo to the right will open a new browser window for the Scribendi website. If we aren't able to
help you here, please take a look at their service.
This page is an Archive for older work, if you would like to send text for free English proofreading and editing, click on the Navigation Bar or on the link at the bottom of the page.
What Other Visitors Have Sent for
Free Proofreading
Click below to see writing from other visitors to this page. If you do not see your submission here, check the Questions and Answers page. It may have been moved.

If your edited writing does not appear, the most likely reasons are either excessive length of the text sent or non-English words in the writing.

---
Free Proofreading

English Questions Help Page

Return to Home Page from Free Free English Editing and Proofreading


What Our Visitors Say...

I just checked out your website and I think it's brilliant! Seriously I really think this'd be very helpful for me and for everyone who wants to improve their English composition skill! Well some words are a bit difficult for me but I don't think it's going to be a problem :) I will visit here whenever I need to get help! Well done.

KWJ
South Korea
What Our Visitors Say...

I just visited your website. It's awesome!!! It will be helpful to me, and others who need help to write in English. I'm so happy to know this site!

WJE
South Korea
What Our Visitors Say...

Thank you very much for helping me to improve my English language skills by editing and proofreading my text. I will tell my friends about this wonderful site.

DM
Armenia
What Our Visitors Say...

Thank you for your work. It is so good to have the feeling of something well done.
Best regards

JK
Columbia
What Our Visitors Say...

The Best.
I am so grateful,you guys helped. I did not expect the proofreading to be this quick.
Thank You so much!

ZM
U.S.A.