Free Proofreading
We are offering this free proofreading service for students of English Composition (or anyone else) who is in need of a little help improving their writing. We are not interested in writing your essay, dissertation or story for you but, would like to help you with correcting grammar, word choice, use of idioms, punctuation and the "readability" of your writing.
Just scroll down the page until you see "Here's How To Do It" and follow the instructions to send your writing for the free proofreading. Between here and there is some important information that explains how the site operates.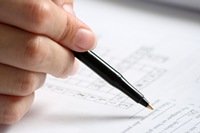 There there is no charge but we are limited on the length of pieces of writing this page can accept. (The maximum size is 3,000 characters.) Texts that are too long will not be displayed.
Since we offer this as a free service, we hope you will contribute any small amount to help support English Editing Express.
We are happy to donate our time and effort but it does take money to maintain the website. Please take a moment to help out and click on the blue text just above.

Scroll down the page and follow the directions on how to enter and send your writing for the free proofreading. A few paragraphs should be the maximum length, we simply don't have the time to proofread and edit longer pieces of writing. We will do our best to respond quickly with a correction. When the answer is ready we will post a new page on the website. Look for the Title of your page below the Submit Form. Pages that have received comments and ratings are moved to the top of the list.
For Your Information
• The 3,000 characters allowed includes all keystrokes, including spaces and formatting. Texts longer than that will be deleted and lost. If you are unsure of the length, several websites (including Scribendi) allow you to check the character count.
• Your name and location are not required but add to our interest and motivation for helping. Obviously false names, no title (or a nonsense title), and entering random characters sends us the message that you are not serious in wanting our help.
• If you do not wish to include your email address for the automatic notification when the editing is posted, please subscribe to the RSS news feed to watch for "New Additions" by using one of the buttons to the left. It also makes us feel warm and happy when you use the buttons at the bottom of any page to mention our free proofreading on Facebook or Twitter.
• We don't wish our time to be monopolized by any one user. Texts received that are continuations of a "too long" piece of writing will be moved to the bottom of the work-list and finished only as our limited time permits.
• Our policy is to not publish any religious instruction, direct solicitations of money for any purpose or any text that contains what we feel is obscene or inappropriate language.
• There are times when we will not attempt editing if we simply can't make out your intended meaning. If we don't publish your text within a few days, please try re-writing for better understanding and try again.
Older proofreading and editing work has been archived on the Free Proofreading 2010 Archive and the 2011 Archive pages. Click on the Navigation Bar button above and to the left to review some interesting writing.
Or Search for Edited Texts Here.

Unexpected Circumstances Will Cause Us To Stop The Free Proofreading Service Temporarily. We Hope To Resume In A Few Days.
What Other Visitors Have Sent for
Free Proofreading
Click below to see writing from other visitors to this page. If you do not see your submission here, check the Questions and Answers page. It may have been moved.

If your edited writing does not appear, the most likely reasons are either excessive length of the text sent or non-English words in the writing.

---
English Questions Help Page

Return to Home Page from Free Proofreading


What Our Visitors Say...

I just checked out your website and I think it's brilliant! Seriously I really think this'd be very helpful for me and for everyone who wants to improve their English composition skill! Well some words are a bit difficult for me but I don't think it's going to be a problem :) I will visit here whenever I need to get help! Well done.

KWJ
South Korea
What Our Visitors Say...

I just visited your website. It's awesome!!! It will be helpful to me, and others who need help to write in English. I'm so happy to know this site!

WJE
South Korea
What Our Visitors Say...

Thank you very much for helping me to improve my English language skills by editing and proofreading my text. I will tell my friends about this wonderful site.

DM
Armenia
What Our Visitors Say...

Thank you for your work. It is so good to have the feeling of something well done.
Best regards

JK
Columbia
What Our Visitors Say...

The Best.
I am so grateful,you guys helped. I did not expect the proofreading to be this quick.
Thank You so much!

ZM
U.S.A.